The churchyard was used for burial from the medieval period until 1892 when it was finally closed to all new burials. The older part lay around the church and it was extended to the south in 1840. By 1892 the church yard was full of upright headstones, chest tombs and ledger stones, whose inscriptions provided a wealth of information.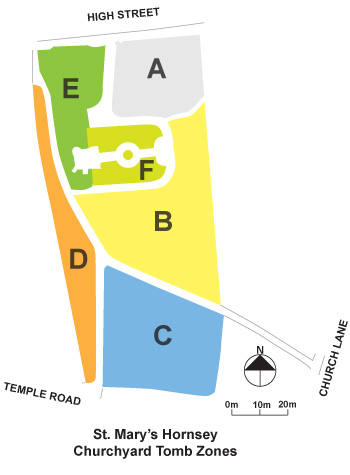 In the early 1950s (when the Garden of Remembrance was made) and, possibly later, in the 1970s, the local council flattened many of the gravestones. In 1987 245 tombs were recorded by members of the North Middlesex Family History Society (NMFHS).
After the church of 1833 was demolished in 1927, some tomb stones (then inside the church), were moved, and re-laid after the creation of the Garden of Remembrance in 1950, so that the 1987 survey included gravestones formerly within as well as outside the church. This management plan is concerned with the existing stones in the churchyard and those once in St Mary's but now considered part of the graveyard. Other surviving monuments, not in the graveyard, are being recorded.
Currently only 213 of those recorded in 1987 can be seen. A survey is being carried out between 2009-2011 and a report is being prepared on their condition. Threats are identified to their survival – notably plant growth, vandalism, and wear. The condition of each stone is recorded on a sheet, and records the threats to each stone noted. Specific general management objectives have been identified in order to preserve the tombs in as good a condition as possible for the future.
The aim of the tomb and monument survey is to:
1) Pass on to the future generations the visual variety, amenity and historical interest of the churchyard.
2) Provide a report providing advice and recommendations for future conservation work, for incorporation into a conservation management plan for the churchyard.
3) Provide an educational resource, relevant for cultural history, local demography, family history, design, ecology and conservation.
4) Provide a report which can act as a pilot study for English Heritage's assessment of conditions of tombs and monuments elsewhere.
The report 2) is achieved by recording on a form the nature, material, date, size, structural condition and types of deterioration provided by each monument.
                                         Additional Tombs Not Recorded in 1987
A16A – A16 recorded in 1987 as a single tomb is now in two parts
A16B – As above
A20A
A20B
B37A
B59A
C19A
C36A
C37
C37A
D15B
D16A
E1A
E13A
E14A
F1A
Additional Monuments Sited Elsewhere
St. Mary with St. George Church, Hornsey (loose items except for 8)
1. Rugvale brass (inscription) c.1420
2. Skevington brass c.1520
3. Priestley brass 1615
4. Robert Harington, Rector, black and white marble tablet with achievement of arms
5. Thomas Lant, Rector, tablet with shield 1688
6. Lewis Atterbury, Rector 1731 and his granddaughter Penelope Sweetapple (1732) (base only)
7. Charles Sheppard, Rector (1829) wall tablet (in garden)
8. George Rey, Highgate c. 1600, incised alabaster slab (laid in floor of church room)
Crypt of St Mary's Tower. Four stones are in the crypt
1. Edward Mitchell died 1864
2. Joseph Seaton died 1683
3. Robert Carter died 1689
4. The upper part of the wall monument in the form of a squat obelisk 'To the Memory of Mrs Hannah Towers, wife of the Rev. Sam Towers MA and only child of Edward Halsey Esq. Late of this Parish'.
Victoria and Albert Museum
Francis Musters large wall monument, 1680.
Elsewhere
Buchanan family gravestone.  Found at 65 Priory Gardens.  This tombstone was found in pieces on the site of a garage behind this house by Jo Trafford-Owen.
                                                          Lost Monuments
1. Richard Candish, erected by Margaret countess of Cumberland 1601, obelisk and pediment with crest and achievement of arms, formerly in the new 1888 church of St. Mary's.
                                                    Priorities for Conservation
The numbered priorities in the forms 1-4 are based on the perceived conservation need of each monument.  However, some additional factors should be taken into account.
Listed Monuments grade 2: Two of the tombs in the Churchyard are Grade II listed by Historic England: Rogers, A5, and Long/Walker, C4, both listed for the interest of the people commemorated rather than for their architectural merit.More information on these two Tombs is available on the Historic England website via the links below:

Tomb of Samuel Rogers and Family: https://historicengland.org.uk/listing/the-list/list-entry/1244865

Tomb of Long & Jacob Walker: https://historicengland.org.uk/listing/the-list/list-entry/1392351