The Tower was opened by the FoHCT from 2pm to 5pm on Sunday 17th September as part of the Open House London weekend.
The weather was good and the event a great success with requests to climb the tower heavily oversubscribed – an estimated 150 visitors attended the Churchyard and Exhibition during the day and most also wanted to climb the tower. With a continuous succession of tours, 110 visitors were guided up the tower and given a short history by Peter Sanders.
This was more than at the Summer Open Day in June.
Although there can be no charge for entry due to the terms of the Open House event, the FOHCT collected a grand total of £301 on the day, including £136 from teas, £48 from merchandise, £67 from donations and an additional £50 gained from subscriptions for 5 new members. Also 3 copies of Bridget Cherry's book 'Ivy-Mantled Tower' were sold (£45), the proceeds of which were passed to the Hornsey Historical Society.
Thanks go to everybody involved in running of the event and preparing the Tower, Exhibition, Garden of Remembrance and Churchyard.
The tour booking 'office'…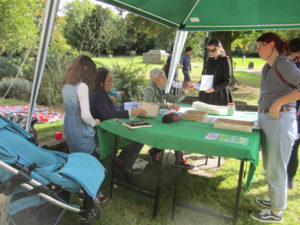 Visitors to the tower…