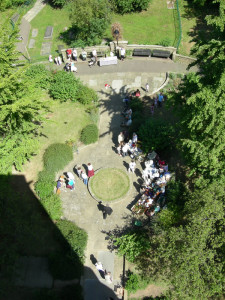 The Friends of Hornsey Church Tower came together in 1989 to give the Tower a secure future. Since then our activities have broadened out to take account of the historic churchyard and the Garden of Remembrance set out on the site of the old church by Hornsey Council in 1950.
We organise and participate in a wide range of activities. Twice a year the Friends open the Tower to the public, allowing visitors access to the roof and other parts of the building. We have organised a series of chamber concerts in the restored vestry – now a functioning chapel – which have received critical acclaim. A number of exhibitions have been held, both at the Tower and elsewhere, on matters relating the Tower and churchyard.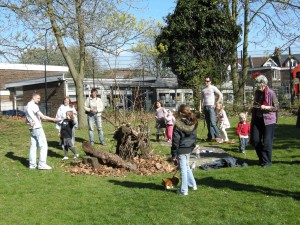 Specially organised events have included Green Art and Building Conservation.
Periodically the Friends run a 'Towers and Turrets Tour', spending a day visiting selected churches within reach of London that are of significant interest.
Gardening in the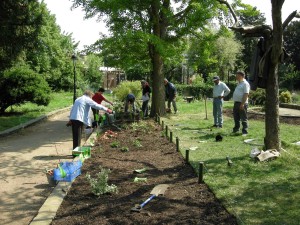 churchyard and Garden of Remembrance has been undertaken to maintain and improve the churchyard and transform the planting in the Garden. Regular 'Gardening Mornings' take place at which all are welcome.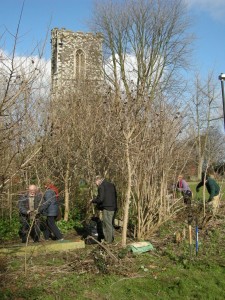 In conjunction with the Hornsey Historical Society, we have recently completed a survey of the tombs in the churchyard. Details of this are on the 'Tombs' page.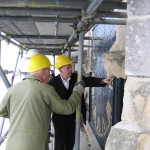 Since 1989, the Friends have gained several grants from a number of funding bodies, including a major Heritage Lottery grant. This has enabled restoration to be carried out to the Tower, improvements and additions to be made to the churchyard and new planting to be done in the Garden of Remembrance. We plan to make further grant applications to continue this work.
The Friends issue regular Newsletters to members, noting matters of interest and giving details of future events.
We are working closely with the owner of the Tower, the Rector of Hornsey, Fr Bruce Batstone, to increase the use of the Tower. It has provided good rehearsal space for musicians. It has also been used for filming.
We are always delighted to gain new members and would be very happy for you to become a member. There is no pressure to get actively involved in any activity, but we are even more delighted when members do.